The Thursday jam and class are offered freely and are supported entirely through the generous contributions of our community.
Everyone at our non-profit ThursdayJam is freely volunteering their time. If you feel inspired by what's happening at our jams and would like to help it to continue and thrive, we warmly welcome your donations.
(Our non-profit pays for the dance space, our associated teachers, and our musicians. To see where your donations are going, you can view detailed info about our finances).
If you would like to offer your time, please check out our volunteer page.
Cash donations to the jam can be made at the donation station to the left of the welcome desk.
Basic online donations can be made via Venmo to @ThursdayJam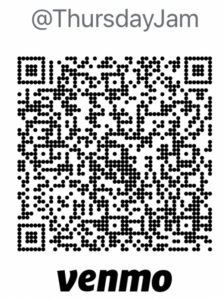 Both one time and recurring donations can be made via PayPal